Attorneys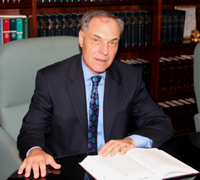 Gerard R. LaFlamme, Jr.
Criminal Law and Business Litigation

Born Haverhill, Massachusetts, July 7, 1953; admitted to bar, 1980, Massachusetts; 1982, New Hampshire. Education: University of Maine (B.S. 1986); Ohio Northern University (J.D., 1980). Member: Haverhill, Massachusetts and New Hampshire Bar Associations; The Association of Trial Lawyers of America. Attorney LaFlamme has successfully defended a wide range of state and federal criminal cases ranging from first degree murder to DWI. Presently Mr. LaFlamme specializes in DWI Litigation and defense in both Mass and New Hampshire.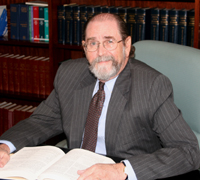 William J. Barron
Business & Corporation Law, Wills & Estates, Real Estate, and Business Litigation

Born Lawrence, Massachusetts, March 17, 1946; admitted to bar, 1977, Massachusetts and U.S. District Court, District of Massachusetts; United Staets First Circuit Court of Appeals; United States Supreme Court. Education: Merrimack College (B.A., 1968); New England School of Law (J.D., 1976). Case and Note Editor, New England Journal of Prison Law, 1976. Special Assistant Attorney General, Commonwealth of Massachusetts, 1977-1980. Member: Haverhill (former President), Essex County (Former Director), and Massachusetts Bar Associations Attorney Barron represents small and medium size businesses in addition to his concentration in Estate Planning, Wills, Real Estate and Probate Law.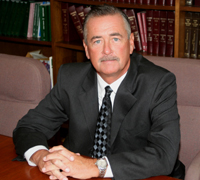 Daniel T. Chabot
Personal Injury Law, Workers Compensation, Automobile Accident Law, Product & Premise Liability Law, Truck Accidents, Motorcycle Accidents, Uninsured Accident Law, Insurance Law & Employment Law.

Born Stoneham, Massachusetts, January 21, 1954; admitted to bar, 1980, Massachusetts; 1987, New Hampshire; 1990, Maine and Florida 1994. Education: Boston College (A.B., cum laude, 1976); St. Louis University (J.D., 1980). Member: Haverhill, Massachusetts, New Hampshire, Maine and Florida Bar Associations. Board of Directors: Boys & Girls Club of Greater Haverhill.

Attorney Chabot has limited his practice to the handling of personal injury and related matters. Attorney Chabot began his practice doing insurance defense work, but since 1983, he has represented injured individuals against large corporations and insurance companies. In 2009, after trial in the Essex Superior Court, a $4.8 million verdict was returned for one of Mr. Chabot's injured clients. Attorney Chabot is licensed to practice in four (4) states and has litigated matters in Massachusetts, New Hampshire, Maine, Florida and numerous Federal Courts.

Personal injury cases are handled on a contingent fee basis. Under a contingent fee arrangement, the lawyer receives no fee unless money is recovered for the client.